Every Wednesday I pick my favorite cover from all the comic books that came out during the week…today's pick goes to Nonplayer #1 by Nate Simpson.
Nonplayer #1 has gotten a lot of buzz lately, a lot of which can be attributed to it's interior art by Nate Simpson; so it shouldn't come to much surprise that it's cover (also by Nate Simpson) is just as stunning. Working best for this cover is it's originality; the style of the featured creature and knight (?) on top of it, although fantasty-ish, is certainly unlike anything that comes to mind right away. And although I usually dislike having to put the title over good art, it actually works here; especially being transparent (which allows the art it's covering to still be there). And the intentional choice to not choose a font style or color that would suggest fantay-ish elements help the eye separate the title from the art, minimizing the clash and oddly enough allowing the title to fit nicely with the image, putting the issue number in the title keeps it covering more of the art.
And aside from the smart placement and originality I'm a sucker for good covers done by the interior artist. It's sometimes a kicker to be sucked into a cover just to be let down by the pages following it, whereas here the cover sucks you in and gives you even more after opening it up.
Can't wait to read my copy!
Other Honorable Mentions (click title to see cover):
Heroes for Hire #5 (Thor Variant), Doctor Who Classics Series 4 Seventh Doctor #3, Blue Estate #1
Last week's Cover of the Week for March 30, 2011 goes to Deadpool Team-Up #883 by Skottie Young.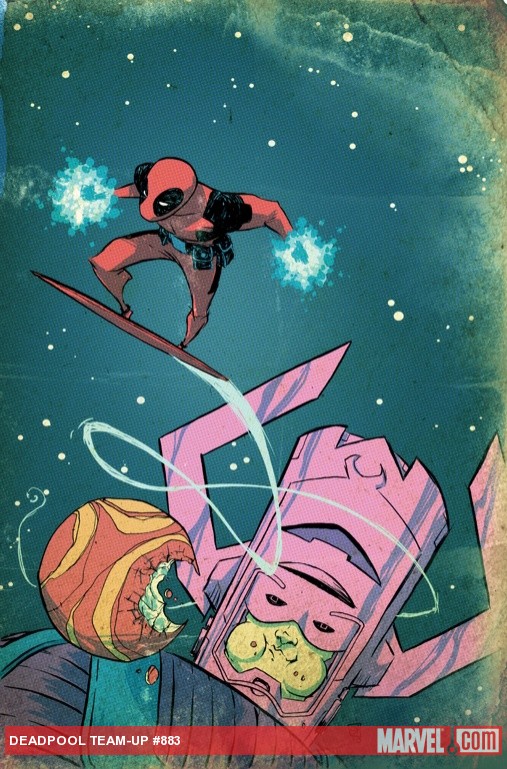 Deadpool is no stranger to our Cover of the Week and it's mostly because the character is a lot of fun and likewise his covers are almost always just as fun, and I don't think I've enjoyed a Deadpool cover more than this one. That would/will make for a great print to hang in the ol' office.
…also…and I am in no way suggesting that there is any swiping/funny business going on but Mike Maihack has a similar strip/print with Galactus chopping on some planets. Do you eyes a favor and check it out here.