Our "Where to Start" articles act as a guide, giving you our best suggestions on where to start on a certain character or creators work. Every article lists several books, each in the character's or creator's chronological order despite it's publication date (so the first choice is at the beginning of a characters career, the last is the furthest along). While in order each book was specifically picked as a good individual starting point; so feel free to start at the beginning, in the middle, or towards the end if you want to get caught up quickly. And if you have any more suggestions or questions just leave a comment.
Where To Start Reading: Thor
Thor: Son of Asgard 2004
Thor: Son of Asgard follows our hero during his teenage days.  Throughout the twelve-issue maxi series, young Thor learns how to be a true warrior.  Along the way, he meets many of the recurring supporting cast seen throughout his nearly fifty-year history – his love Sif, his warrior friends Balder and the Warriors Three.  Throughout the series, his step-brother Loki, with the help from the Enchantress, who has long held feelings for Thor, try to litter the young hero's path with sorceries that could cause some serious harm to the Thunder God.  This series has been adapted into an animated movie due May 17, 2011 called Thor: Tales of Asgard.
What to read next | Thor: First Thunder
Essential Thor Vol. 1 1962
This is where the world is introduced to the Mighty Thor.  Created by Stan Lee and Jack Kirby, Thor's stories were heavily based on the characters of the actual Norse faith right down to the idea of Ragnarok, the end of days for the world as the Norse saw it.  To the exception of The Destroyer, all the characters that will figure prominently in the movie got the first appearances in these first thirty stories featured in Journey Into Mystery.  Not to mention, you get some really cool art from Jack Kirby that would later serve as a template in creating the New Gods characters at DC.
What to read next | Essential Thor Vol. 2 – 5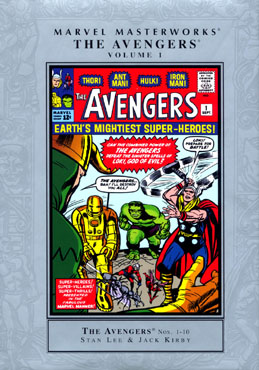 Avengers Masterworks Vol. 1 1963
Thor's rivalry with his evil step-bro Loki was a massive assist in creating Marvel's most powerful super-team, the Avengers.  It was Loki's interference that he hoped would lead a confused and manipulated Hulk into direct conflict with the Thunderer.  In actuality, Loki hoped it would lead to the death of his do-gooding step-brother.  Unfortunately for the trickster, the plan backfired and the result was the Avengers.  In these early issues, you get a lot of Hulk/Thor action, the discovery of a still-living Captain America, and confrontations with Namor and the Masters of Evil.  It's every bit what a grandiose Silver Age superhero book should be and more!
What to read next | Avengers Assemble Vol. 5
Thor Visionaries – Walt Simonson, Vol. 1 1983
No writer or artist is held in such high esteem as Walt Simonson during his lengthy, four year run on Thor.  Right off the bat, he creates a new hero in Beta Ray Bill (a character that to this day still hangs out with Thor and cosmic heroes) and a new villainess in Lorelei.  Lorelei wasn't exactly as important as Beta Ray Bill, nor was she exactly as menacing as her sister, Amora (The Enchantress), but she did provide her sister with the ability to mature as a character and realize where she'd gone wrong in her pursuit of Thor, Amora's one true love.  Every creator since has had to be compared to Simonson in both art and story, and thanks to him, many people of Generation X who read comics were huge fans of Thor.
What to read next | Thor Visionaries- Walt Simonson Vol. 2 & 3
Thor, Vol. 1 (Dan Jurgens) 1998
Dan Jurgens' long run on the series is second only to Simonson's in my opinion, but it did do something that Simonson didn't have to – the relaunched title had been gone for a few years and needed to come back big time.  Jurgens' Thor was much like Simonson's in the idea that he would be battling cosmic threats, and major players throughout the Marvel Universe.  Since he had returned to the fold from being in an alternate reality, Thor's return to the Marvel U proper needed to be as epic as possible, and, for the most part, Jurgens' delivered.  This also marked the last time I really was excited about John Romita Jr. artwork.
What to read next | Avengers Assemble Vol. 1
Thor: Lord Of Asgard 2001
Odin has perished and Thor is now the undisputed Lord of Asgard.  This arc would begin a larger story toward the end of Dan Jurgens' run on the title that found the new Lord of Asgard pondering the purpose of his people in relation to humans.  Decisions that Thor makes has consequences to both he and the Asgardians that as their presence in peoples' everyday lives grows, his own view of how everyone should life begins to take very interesting turns that surprised every longtime reader.
What to read next | Thor: Gods on Earth, Thor: Spiral, Thor: The Reigning & Thor: Gods and Men
Avengers Disassembled: Thor 2004
Michael Oeming takes over from Dan Jurgens for one single arc.  This story would be the last Thor story for three years, and completely removes the God of Thunder at the worst possible time for his friends and the rest of the Marvel Universe.  Thor realizes that the time of Ragnarok (the End of Days for the Norse belief) has come.  What surprises, and even angers, him more is that Ragnarok is a sham.  The Asgardians die only to be reborn over and over again in an endless cycle of existence.  As Lord of Asgard, Thor has the ability alter this forever and takes advantage.  He goes about Ragnarok differently and puts an end to the cycle in ways none of us could ever have seen coming.
What to read next | Civil War
Thor (J. Michael Straczynski) Vol. 1-3 2007
Despite the destruction of the Asgardian cycle, the universe seems to have different plans.  After his enchanted hammer, Mjolnir, crash lands outside Broxton, Oklahoma, Thor is called back into existence.  He decides to resurrect the rest of the Asgardian race when he finds their souls trapped within humans all over the world.  He rebuilds Asgard, but decides to keep it hovering just above the surface of Earth instead of a heavenly pocket in space.  Thor is back, but things aren't quite as happy as one might think.
What to read next | Thor: Latverian Prometheus
With Asgard hovering just above U.S. soil, and maniacally conservative Norman Osborn in charge of national security, Osborn strikes a deal with Loki to evict the Asgardians from the Earthly plane.  Osborn invades Asgard with his merry band of thugs and lackeys nearly laying waste to the entire population of Asgard.  As help arrives in the form of Thor's old buddies Captain America and Iron Man, Osborn uses his big gun, The Sentry, to deliver the final blow and reduce Asgard to rubble.  This is a particularly accessible story as it closes a dark chapter in the Marvel Universe and opens a new one that leads directly to what is going on now and doesn't really pull any punches.
What to read next | Thor: Siege Aftermath
Thor: The World Eaters 2011
With Asgard laid waste by Osborn's siege, the downtrodden Asgardians must face another problem…  A race of beings from another dimension wishes to take Asgard's place in the Norse religion's World Tree.  To do so, these red-skinned warriors have to eliminate anything that opposes them.  Unfortunately for them, a resurrected Asgardian has other plans for them and comes back in time to repel the beasts and begin the process of returning Asgard's majesty to its proper place.  If you're reading Fear Itself, and like what Matt Fraction's doing, this was his first arc on the title.  This is also the final arc of the current volume, but fear not…  Thor can be found in the pages of two series – Journey Into Mystery and The Mighty Thor.
What to read next | Fear Itself
If you have any questions or suggestions leave a comment and we'll try to help you out. Until then, happy reading!